Recruitment Help
September 2019 Issue
(This article was update on 12/13/2019)
Author(s):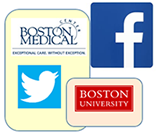 John F. Ennever, MD, PhD
Director, Office of Human Research Affairs
Introduction
Readers of the CLINICAL RESEARCH TIMES know that there are a myriad of steps needed to successfully complete a clinical research project, and each of the steps can be difficult to complete: getting funding; getting all of the regulatory approvals; conducting a study that is compliant; and recruiting sufficient participants. Most importantly, failure to recruit sufficient participants to answer your research question means that all of the previous work you have done was for naught.
Both Boston Medical Center and the Boston University have marketing professionals that can help you develop marketing materials and strategies to help in recruitment. Their services are provided at no cost to the investigator. However, costs for printing, newspaper/digital media advertisements need to be covered by your research budget.
The BMC Communications and Marketing Department and the BUSM Communications Office have a single portal to facilitate interaction between investigators and these two resources. As soon as you are ready (you do not have to wait for IRB approval for your study), you can submit a request through this portal for assistance in developing a study-specific strategy. In addition, because both BMC and BU have institutional requirements about use of their respective "branding," all sponsor-provided recruitment materials that include either BMC or BU logos must be submitted through this portal for sign-off by the appropriate office.
Promotional Material Options
The BMC Communications/ Marketing and BUSM Communications will do their best to fulfill promotional material requests. All currently available options are outlined here:
Twitter Post
BMC/BU can post one tweet from @The_BMC/@BUMedicine. There is no charge for this tweet.

Flyers and Postcards
Flyers (8½ x 11 inch) and postcards (5½ x 8½ inch) are materials to be handed out by providers, posted in clinics, etc. If the flyer or postcard is to be printed professionally, then you should budget $150-$175 per 100 pages. If you are printing in-house, then no separate budget line is usually needed. There is no charge for designing the flyer or postcard.

Social Media Advertisement
You can request advertisements that run from BMC or BUSM social media accounts to a targeted audience. You should plan on budgeting $1,000 for a 6-week pilot campaign with the potential reach of 75,000 to 250,000 depending on the target audience. This charge is devoted solely to the delivery of your social media advertisements. There is no additional fee for the design and placement of the ads. This type of recruitment has already proven very effective given the specific targeting capabilities for some studies. You are encouraged to include social media advertising campaigns in your recruitment budget. For questions and more information on this promotional option, please email: Lillian.Vautour@bmc.org.

Newspaper/Digital Media Advertisement
You can request advertisements to be placed in newspapers, subways, websites, etc. There are a wide range of options for these more expensive promotional options. You should budget $500 - $15,000 (this very wide range is because of differences in your audience, placements, and other factors).

BMC Website & Email placement
The following three options would be initiated by the study team, not the BMC Communications and Marketing Department and the BUSM Communications Office. There is no charge for any of these placements.

You can request to have your study listed on bmc.org, the externally-facing BMC website. Email the Clinical Trial Office at CTO@bmc.org with your study name and National Clinical Trial (NCT) number to request to have your study listed. The link to the listings is emailed each week in "The Week Ahead" email newsletter to all BMC staff.
You can submit your study to the BUMC News & Events email which is sent to all faculty, staff and students on the BU Medical Campus every Monday morning. Submit your information through this link. You must have a BU Kerberos login/password to make this request.
You can post your study on the BMC/BU Medical Campus Study Finder, which lists studies for public view, both for recruitment purposes and/or general publicity and collaboration. If you are using Study Finder to recruit subjects, then you should complete the Study Finder Form in the Submission Forms section of INSPIR. For more information, click here.
Requesting Review
Go to this website: www.bmc.org/researchpromotion and fill out the form by providing the following information:
Study Name
Study INSPIR H-number
Home institution of the principal investigator (i.e., BMC or BU, if unsure check www.bumc.bu.edu/PIfinder)
Copy of initial IRB approval letter
Brief study description in layman's terms
Study website URL, if available
Study email address
Study phone number
Target audience
Study website URL, if available
Study email address
Study phone number
Compensation for participants (if any)
Study contact information
Study URL (if any)
Promotional budget
Type of promotional material

Flyer
Internal Communication
Newspaper Advertisement/Paid Media Placement
Postcard
Social Media Advertisement
Social Media Post
Other
None - Sponsor supplied materials

Ideal deadline
Any related attachments (e.g., sponsor provided materials with BU or BMC logos)
Depending upon the home institution of the PI, someone from either the BMC Communications and Marketing Department or the BUSM Communications Office will respond within 2 to 5 business days. The development of study-specific materials will average 1 to 4 weeks.
Once you are satisfied with the materials, they need to be submitted to the IRB, either with the initial submission or as an amendment for final approval. The IRB will not approve branded recruitment material unless it has gone through BMC Communications/Marketing or BUSM Communications. INSPIR now has a Recruitment Materials Submission form for amendments to submit recruitment materials that have received marketing approval.
We encourage all studies to take advantage of the professional help from the BMC Communications and Marketing Department or the BUSM Communications Office. For general questions, please contact content@bmc.org. The steps in this process that have been described in this article are also found in the Promotion Toolkit document here: http://www.bumc.bu.edu/irb/files/2019/07/Research_Study_Recruitment_Promotion_Toolkit.pdf